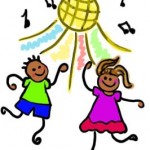 Congratulations to Chrystina and Jeff and their crew of big and small volunteers that pulled together a wildly successful Jelly Bean Dance at the end of September  (2013) at our hall.
It was such a fantastic event for everyone in attendance. Our local Tuxedo DJ was FANTASTIC! Thank you so very much.
We had a hall full of dancing kids, and adults. It was an affordable, community creating event.
Chrystina has already secured three more future dates to ensure we all keep our groove on. The next kid's dances will be: from 6-9pm on November 29th, January 24th and March 21st
Please mark those dates in your calendars. ALL are welcome, any age, from any community. Admission is suggested at $3 per child. We may have more food options at the next dance including hotdogs AND samosas from our local Cedars Deli. Please watch our website, community sandwich boards and upcoming newsletter for more information.
Email us if you would like to volunteer at the door or at the concession during the dance.