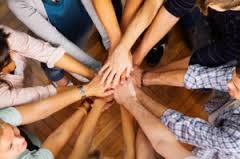 Hello Everyone!
My name is Nicole. I'm an individual who wants to initiate sharing in Tuxedo Park. What do I mean by sharing? My favorite example is a lawn mower. You only use a lawn mower every couple weeks so it sits unused 80% of the time. Now, if this lawn mower was shared between one, even two other people, those other people could share the lawn mower and be able to be good neighbours!
My goal for Tuxedo Park is to implement a sharing community where we can borrow and lend with our neighbors. I believe that everyone would love to get to know their neighbors. It builds trust, strengthens community and also allows for a richer social and community life. An added bonus is that we all get to save money together and help reduce the amount of waste that we produce and send to the landfill.
To get our sharing circle going, my friend Darrah and I are starting a sharing newsletter where I will provide those who join our sharing circle with bi-weekly email updates of things available to borrow and things people need. Here's a taste of things that are already available:
Snow shoes
Chocolate fountain
Ovation acoustic guitar
Ladies mountain bike
Boys hockey skates
Female steel-toed boots
Help for finding you cheap flights!
Small business coaching
and more!
To join our sharing circle and become pioneers of this exciting project, please send me an email with the subject TUXEDO PARK SHARING CIRCLE to yycshares@gmail.com with the following information:
1. Your email address for the bi-weekly newsletter
2. Email (and a phone number if you prefer texting) that I can share with the group for direct connecting when there is a match
3. Some things and/or skills you have that you can share
4. Some things that you want to borrow or skills you want to learn
To help us get to know each other better and promote more sharing, we will also be hosting sharing-themed events such as potlucks or skill swaps. When you see #yycshares on our signs, you will know that's us 🙂
Sharing is great for the community and for your wallet. You can build relationships with your neighbours and save money by borrowing from others. It also promotes the construction of a "community inventory" where everyone can access to the "sharable" things in the neighbourhood – thus saving money and reducing waste created.
Let's work together to create a bright future for our community, for us and for our children.
Hoping to hear from all you potential sharers!
Regards,
Nicole
Project supported by #yycshares: Giving is cool. Sharing is the future!