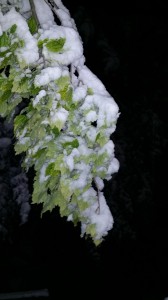 I have recently moved to Calgary from Winnipeg.  Winnipeg is often fondly referred to as Winterpeg and I am quite used to copious amounts of snow.  I am not, however, used to getting it before the leaves start to fall and I have never seen anything like "Treemagedon."  I was very happy to see the white stuff go as quickly as it came.  The snow is gone, but the effects of it can be seen everywhere.
Over a period of three days, Alberta received 20-35 cm of snow.  Heavy snow broke branches and toppled trees leaving 57000 homes and businesses without power.  That is twice as many people without power than during the flood of 2013.  Enmax reports that power has been restored to primary lines but there may still be some individual homes without power.
With so many trees down and quite a few on private property,  Calgary has extended hours at all three landfills to 730 pm and waived tipping fees for anyone bringing in tree debris not mixed with garbage.  On September 13, the city also opened all 33 pumpkin and leaf drop off locations to accept tree debris.    Both the landfills and pumpkin and leaf drop offs will be accepting tree debris free of charge until further notice. Monday, the city announced that the landfills had already received over 5 million kilograms of tree debris. Tree debris can also be cut into four foot lengths and stacked on the boulevard or beside city carts. The city is asking that you don't put tree debris in carts as this may damage carts or city equipment.
If you have large limbs on your property you cannot deal with yourself, you can call 311 and request the city to attend to the tree.  Citizens are encouraged to report request online or through the 311 mobile app.  Please include a photo.
Calgary has also temporarily expanded the City Links program to assist seniors and others physically unable to deal with large branches and tree damage on their properties. Contact 311 and ask for Seniors Home Maintenance or fill out an online service request.
I spent some time driving around Tuxedo Park this weekend taking pictures and talking with neighbours.  I noticed a lot of clean up has been done but it will be a while before  clean up is complete.  Calgary has adapted the slogan "Pick Up, Pitch In and Pull Together."  Pick Up small pieces of fallen debris, Pitch In and help your neighbours, and Pull Together by working with community to help those in need.
I stopped in and spoke with Glen and Keith at Plantation Garden Centre.  They had some very helpful advice about the trees and gardens.   Glen told me if people want to take care of broken branches themselves to try to make sure cuts are made perpendicular to the tree.  Angle cuts are larger and make the tree work harder to heal.  He also said that branches should not be cut flush with the tree but to try and leave about a three inch stump.  Glen told me that most garden plants should spring back and finish their growing season.   Keith pointed out that there are still many broken branches high in the trees and that people should use caution especially if we get any windy days.
The good news is nice weather is in the forecast.   Get out and enjoy the warmth and maybe give a neighbour a hand.  You'll feel good and could make a new friend.
Here are some pictures I took of the neighborhood.   Feel free to add your pictures of the storm,  the after math, or simply neighbours helping neighbours!