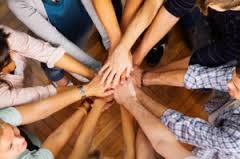 Cloth, Paper, Scissor-  Saturday, October 19th- 11am to 4pm
Bring your unfinished craft, your bills, photos you need to organize, a friend, any project you need to complete!  Come hang out for the day and get it done!
Get your Tuxedo Park Community Membership for only $10 for a year!
Neighbour Share- Friday, October 25- 5pm to 8pm
A potluck (bring something you`d like to share) and sharing activities!
Could I Borrow A Pinch of Salt?
Sharing is caring and Tuxedo Park would like to build a community where we feel cared for and supported by neighbours. Tuxedo Park invites you to an evening pot luck dinner with discussion and activity revolving around sharing, where we can learn how to share with our neighbours, whether it be some salt, a lawn mower, or a bit of your heart. Not only can sharing help save us money, it can help us to generate positive and healthy relationships with the people we live with and create a community that`s based on care and trust rather than pure geographical location.  We are looking to expand this concept via planning bi-monthly events for us to meet our neighbours and build trusting relationships to the point where we are willing to seek their assistance and offer our support.  Questions? Contact Nicole Chan 403-400-0576