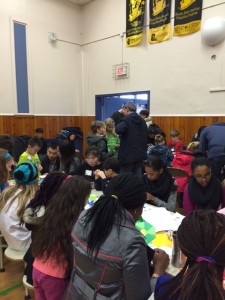 Mathematics Festival in Canada on Sunday, March 1st.  Calgary students from Grades 2-9 attended the festival, which provides interesting, engaging, and  thought-provoking problems to solve.  The festival was a non-competitive celebration of great ideas and problems in mathematics.
Students and parents were provided with several tables of rich math problems and activities led by a number of volunteers from different disciplines – teachers, professors, engineers, programmers, graduate students, and more.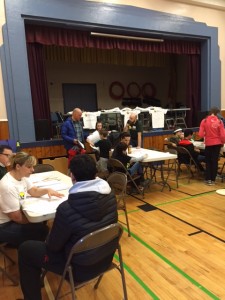 Julia Robinson Mathematics Festivals take place all over the US, but this is the first time the festival has come to Canada.  Unlike math competitions, this festival encourages friendly collaboration.  Volunteers from as far as San Francisco and British Columbia provided diverse entry points –  arithmetic, origami, hands-on puzzles, geometry, card tricks, patterns, coloring, and more.
Dr. Gordon Hamilton, mathematician and game designer (aka Dr. Pickle), has bee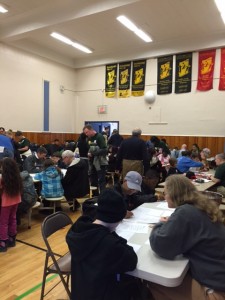 n working with Mount View students t It's important to have math activities that are accessible to everyone."  The Julia Robinson Mathematics Festival is one such activity that any student can try, regardless of strength and ability. The principal of Mount View, Jennifer Bartlett, said that "Students came together in an environment that sparked their curiosity about problem solving.  Curiosity is an important motivator for perseverance."
You can learn more about the Julia Robinson Mathematics Festival by watching this You Tube video