Tuxedo Park Community Association wants to see people gathering, connecting and experiencing fun! We have been working very hard at developing the following programming at very little or no-cost to our residents and neighbors. Please join us!
For more info on any of the programs below please contact Shannon by email or 403-277-8689
Everyone inside and outside our community are welcome to attend our programs,
---
For more information, call or email Shannon: 403-277-8689 gm@tuxedoparkcommunity.ca
Membership required for all programming (resident and non-resident memberships avail)
(arrive early to sign waivers)
Ongoing Classes:
Seniors Fitness with Marianne
Tuesdays, 10:30 – 11:30 a.m. Upper Hall (arrive early to sign waivers).
FREE, all welcome, space is limited
Walk 15 Fitness with Nancy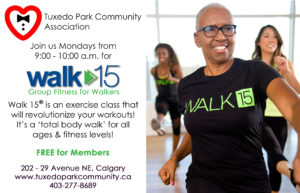 Mondays 9:00  – 10 a.m. Upper Hall
FREE, all welcome
Walk 15® is a low-impact, walking-based group fitness class that's easy to follow yet effective in results – it's an exercise program that virtually anyone can do. Our 15-minute mile is the foundation of the program, and we use the best features of low-impact, aerobic style group exercise in a format set to music that makes working out fun. It's new. It's different. It's exciting!
Yoga Flow Monday Nights with Steph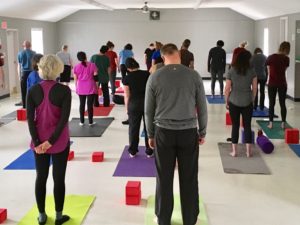 Mondays 6:30pm-7:30pm
FREE, all welcome, space is limited
No Yoga on holiday Mondays
A great class to get moving and connecting to breath. The flow of postures will keep you on your toes as you explore natural movement of the body and expand your practice with lots of modifications to compliment your comfort level. Suitable for beginner to intermediate practitioners.
Yin Restorative Yoga Monday Nights with Steph
Mondays 7:45pm – 9:00pm
April 2 – June 25 2018 (3 months, 12 sessions) Registration currently open  (no class May 21 Victoria Day)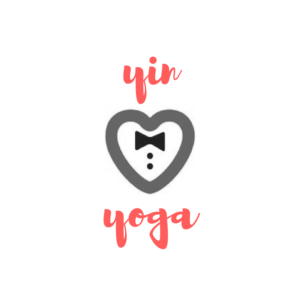 $78.00 for Resident Members, $102 for Non Resident Members
Limited space, this class fills up quickly, register early.
Fridays 9:30am-10:30am
March 2 – April 27 2018 (2 months, 8 sessions) (no class March 30 Good Friday)
$52.00 for Resident Members, $68.00 for Non Resident Members
Cardio Dance with Rebecca Running until April 24th only
Tuesdays, 6:30pm-7:30pm starts in Feb 2018
Drop-in rate: $6.50 for resident members, $8.50 for non-resident members
** First two classes are free! Feb 6 and Feb 13 join the class for free!**
A fun, full-body aerobic workout that will tone and shape your muscles through specific movements. Come dance and get fit!
Intermittent Programming:
Modern Masters (ages 5 years and up)
Dates
: April 18, 
25 May
 2, 9, 16, 23, 30, June 6 2018
Class Details
: We will explore artists such as: Warhol, Dali, Klimt, Cezanne, Picasso, etc. Creating personalized pieces inspired by these masters, This series will work with techniques of sculpting, sketching, painting, mixed media and presenting their personal works.
Resident Members: $55. Non-resident members $65