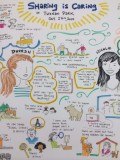 The community family pot luck and sharing presentation hosted on October 26th by Nicole Chan and myself (Darrah Wolfe) provided a great platform to discuss and erode the barriers that prevent us from sharing with our neighbours. The biggest barrier to whether or not someone was willing to share their possessions or a skill was mutual trust.  To many of the participants' surprise, a certain degree of trust was built within only a single interaction, the pot luck gathering, after which participants feel comfortable extending their things to those they had just met.  To show how quickly barriers can be brought down, I questioned the participants "Who would be willing to lend me their car to run an errand?" and our community association's President, Tammy, who had only met me on three occasions, raised her hand that she would.
Other neighbours offered tools from their garage, cooking items from their kitchen, babysitting, dog walking services, and so on.  We discovered it was more comfortable to offer something than to make a request.  This is another barrier we must work to break down because others don't know what we need of and so it may never be offered.  Sam Hester with The Drawing Book volunteered her time and shared her artistic skills to graphically record our evening discussions in an amazing drawing that will be framed and mounted in the Tuxedo Community Hall later this year.  The full drawing has also been posted to our community's Facebook page.
Finally, with the use of a projector we borrowed from a friend willing to share, we did a quick walkthrough of another great website platform that help people create sharing matches on the internet.  Check out www.neighborgoods.net, which allows for group creation so offers and requests are only sent to those you are comfortable sharing with.
Keep an eye out for our next sharing event to be held in February 2015!
~ Darrah Wolfe