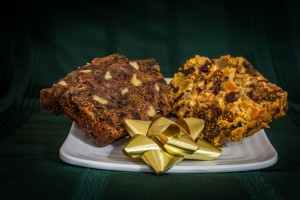 In 1978, Mary Smyth and a team of helpers started baking fruitcakes to raise funds for the Unitarian Church of Calgary. Initially they offered only the traditional light and dark fruitcake varieties but over time, Mary Jane Hussey added more contemporary choices. Mary Jane, a dietician, by training, developed a chocolate/cherry version and a cranberry/apple/apricot version. The four types available for sale now are:
Mary Smyth Dark Fruit Cake – raisins, dates, gifs, currants, candied fruit and walnuts
Mary Smyth Light Fruit Cake – candied fruit, golden raisins and almonds
Mary Jane's Millennium Fruit Cake– apricots, cranberries, figs, apples and pecans
Mary Jane's Chocolate Fruit Cake  – Bing cherries, dates, figs and milk chocolate
The volunteer members of the Unitarian Church spend many hours shopping, chopping, dicing, mixing, baking and wrapping to create 120 cakes per year. There is always lots of laughter and talk at these sessions; making these fruitcakes is as much about building community as it is about raising funds.
The price this year will be the same as last year at $35.00 per cake and all proceeds from this fund raising project contribute significantly to the church budget. Please always remember that we always make our cakes with loving care and quality ingredients. No cakes contain any alcohol. And every cake comes attractively gift-wrapped and weighs just under 1 kilo!.
To order a cake, please contact Jane at 403-283-7162.